Start of the school year 2022
Tena Koutou Katoa Dannevirke South School whānau,
As you know, school starts on Tuesday and we are all very excited to see our students again after the Christmas break. Teachers have been working hard to set up their classroom for another exciting year of learning and now we just need students for it to come alive!
Things will look a little bit different in the Red setting with South School taking every precaution to keep our students and staff safe.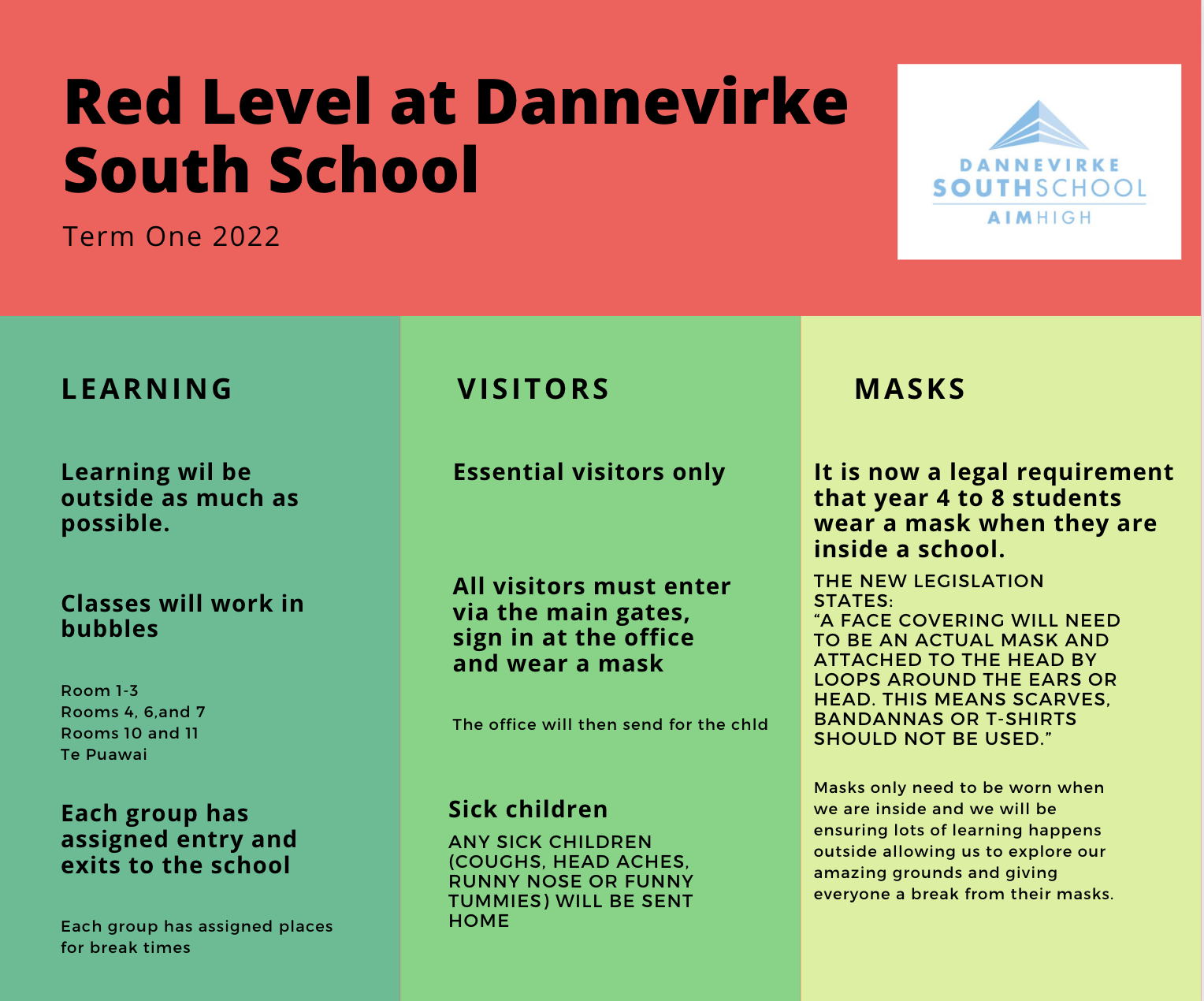 Firstly we will be learning outside as much as possible. This allows us to use our amazing grounds- including the bush areas and our stream. We are so lucky to have such diverse areas at our school. I have never been in a school before that had its own creek and bushland as part of their grounds! 
This makes it especially important that students come from day one with their school hats and already sunscreened (we will top this up during the day). They also need their own drink bottle to minimise the time they are out of their bubble. 
Secondly we are operating in 4 different bubbles of rooms. 
These groupings will have break times together, have specific entrances and exits and set places to play before school and in breaks. This is to reduce the number of people our children are coming into contact with during the day and to limit transmission between groups if there was a positive case at school. 
Our bubbles are:
| | | |
| --- | --- | --- |
| Rooms | Entrance and exit gates  | Before school play area |
| 1-3 | Gate by the hall | In the hall |
| 4,6 and 7 | Main school entrance | The outside lunch bays in front of their rooms |
| 10 and 11 | Driveway on Hunter Street | The grassed area in front of their room and the junior playground |
| Te Puawai  | Gate by the Dental Clinic | The court directly in front of Te Puawai and the deck |
Students will not be allowed on school grounds until 8.30 and we ask that you please keep your children home until this time (not including bus students). This way we limit mingling between bubbles and students. 
As soon as students come onto school grounds they must play in either their classrooms or the allocated space listed above.  
There will be a teacher at each entrance before and after school to welcome our students and also to check the wellness of everyone entering the site. Children who show signs of illness will be sent home immediately to ensure the safety of everyone at school. Please do not send sick children to school- this includes sore throats, headaches, coughs, runny noses and sore tummies.
Masks
It is now a legal requirement that year 4 to 8 students wear a mask when they are inside a school. The new legislation states:
"A face covering will need to be an actual mask and attached to the head by loops around the ears or head. This means scarves, bandannas or t-shirts should not be used."
Masks only need to be worn when we are inside and we will be ensuring lots of learning happens outside allowing us to explore our amazing grounds and giving everyone a break from their masks.
There are exemptions for wearing a face mask including for children or staff who:
are deaf or hard of hearing, or if the person has a physical, mental health need or

disability, that makes wearing a face covering unsuitable for learning.
Exemption cards are issued by:
Disabled Persons Assembly NZ for disabled people or if your child has a health condition

Blind Citizens NZ on 0800 222 694 or blind, deafblind, low vision, and vision-impaired people

Deaf Aotearoa by emailing covid@deaf.org.nz for people who are Deaf or hard of hearing.
If your child has an exemption then please email me on principal@dannevirkesouth.school.nz and I will notify the class teacher. The reason will remain confidential between the parent and myself. 
Visitors on site
At Red we must limit all non-essential visitors on school sites. We ask that you please drop off and pick up your children from their designated gates, wear a mask and maintain at least a 2m distance from you and other families. If you need to enter the school grounds you must wear a mask, come to the school office and sign in. We will then send for your children. 
Covid Guidelines at Dannevirke South School
You may wonder why there is a delay from the Cabinet announcing changes and Dannevirke South School updating you about what this will look like at our school. I would like to explain the process of how we receive and filter the information sent to us:
The Ministry of Education receives information from the Cabinet and Ministry of Health as it is released in a press conference to all of New Zealand. 

They then work through the new legislation and recommendation to make them fit a school setting. 

Schools then receive bulletins from the Secretary of Education anywhere from 4 to 24 hours

after the Cabinet announcement, which include very specific guidelines for schools to implement. 

I work through these guidelines to interpret them to our specific context (e.g. size of school, physical layout of school, collaborative learning spaces, several access points to the school, early arrival of buses, etc).

 
At South School we work hard to meet the very specific MOE guidelines we must follow to keep our students and staff safe, whilst also acknowledging and being responsive to the diverse needs of the community. We really appreciate your patience as we work through this and also your flexibility as our guidelines change as the situation evolves. At South, your children's and our team's safety and wellbeing is our priority so our planning needs to be detailed and sometimes this takes time. 
Thank you for all your support with these new ways of operating. Please feel free to email me on principal@dannevirkesouth.school.nz if you have any questions or ring me on 374 8915
Caroline Transom