Rugby
The season will start 25th July and finish on the 19th September, which aligns with Term 3 for all schools.
Hockey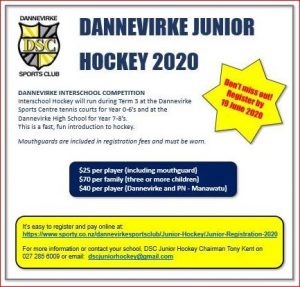 South School Hockey Notice 2020
Netball
Draw for Saturday 27 June 2020
Dannevirke South School Netball Teams 2020


REMINDER –  ALL PLAYERS of ALL GRADES that absolutely NO jewellery is to be worn on court.  The ONLY item allowed to be taped is a medic alert bracelet.  Players must have short fingernails.  It is the responsibility of the umpires to check these things before games commence.
Games for A and B Grade are played as 4 x 10 minute quarters.  Skills sessions for 5 v 5 will be approximately 15 minutes, followed by a game that will be 3 x 10 minute thirds.